Ngumys International School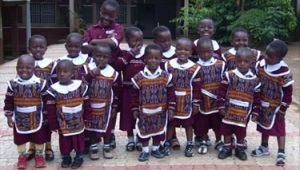 Ngumys Fantastic International School, a fully accredited elementary school in in Dschang, Western Province of Cameroon, was founded by Professor Ajaga Nji in September 2008. The school was opened to provide equal opportunity, relevance and excellence to education with the motto: "In Pursuit of Fact, Truth and Reason". The school started with 12 pupils, and has steadily grown in number.
With the presence of infrastructure such as playgrounds, an auditorium, a computing center, and a low student to teacher ratio, the school provides a fun, stimulating and save environment for children ages 5 to 12. On board accommodation and bilateral agreements with international institutions of learning allows the school to entertain international students.
The school has been recognized within the community for its service and educational quality and continuously strives to provide a better enviroment for education its founding principles. The school also participate in public parades marking Youth Day on February 11 and the National Day on May 20.
For more information, please visit the website.